Mumbai is a city of opposites – bustling and serene, heartbreaking and inspirational, state-of-the-art and timelessly traditional. Sitting on the western coast of India is this country's financial powerhouse as well as the center of after-dark frolics, film, and fashion.
You can never get too far from the madding crowd in Mumbai. India's most populous city is home to just under 40 million people, making everything crowded, crazy, and chaotic. It is full of hard laborers and dreamers, gangsters and starlets, exotic birds and stray dogs, servants and artists, crorepatis (millionaires) and fisherfolk. Here are the top must-see attractions in Mumbai, India.
Taj Mahal Palace
This is the most famous landmark in Mumbai. Taj Mahal Palace is a fairy tale blend of Renaissance and Islamic styles and the second most photographed monument in India. This hotel is more than just an iconic building; its history is linked intrinsically with the nation. Today, the Taj Mahal Palace fronts the gateway and harbor of India, but it was designed originally to face the city.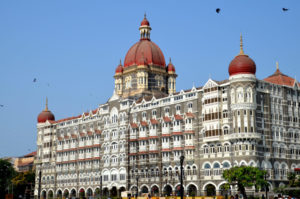 Mutton Street
Stroll through Mutton Street's shop bazaar, one of the largest flea markets in the world. Stuffed to the gills with bric-à-brac shop selling Victorian antiques and tourist junk, it is chaotic, raucous, and totally devoted to the great engine of Mumbai life – commerce. Hit the city street vendors for fast food done Mumbai style. Here you will find Indian treats like Bombay duck, bhel puri, and the local invention pav bhaji.
Maidan Oval
Mumbai is one of the most congested places on earth but right in the city's heart is a series of green breathing spaces. Stop by at Maidan Oval, it is here that this country's cricket obsession is played out in a unique Mumbai setting – grandiose colonial buildings, blocks of flats, and palm trees.
Juhu Beach
Juhu Beach is a favorite after-work meeting place, everyone seems to have walked straight out of the office to join their family and friends to soak up the beaches carnival atmosphere.
If you are a fan of the Bollywood industry, this city is the right place to be. Mumbai is the ghoulish ring epicenter of India's gargantuan Hindi language film industry. There is a regional film industry in every part of this country however Bollywood continues to take the lead. This is because of its winning escapist formula of Masala Entertainment where all dancing and singing lovers fight and conquer the forces trying to separate them.
With a running start, an open wallet, a dash of adventure, and a pinch of gumption, you have no excuse not to dive into this city's madness.